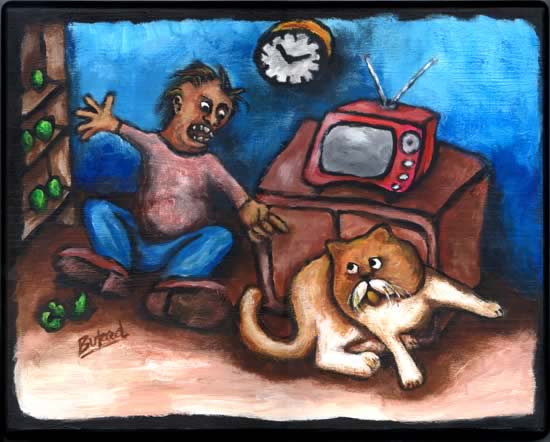 Castin Blame
Ever notice how a cat kin git right under yer feet when yer a walkin? Well this feller tripped on the cat and fell against some shelves and fell on the floor. In the process he broke a valyable porceelin egg. So whose in the doghouse?
I used my cat Tabasco as the subject of great blame in this here painting. He's an expert at gittin underfoot.
Some folks jest natchurally cast blame whenever somethin goes wrong. I think it must be some kinda habit learned in childhood. If yew live with one a these blame-casters, yew know its like livin with a over-sized kid. Part of growin up is gittin on the "no-blame train."
I was once in a singin group that used to go arownd to nursin homes to cheer up the old folks with some cheerful singin and entertainin. We called ourselves "The No-Blame Train." Of course folks'd always ask whut the heck that name meant, and that'd give us the oppertoonity to talk abowt how yew kin injoy life so much more when yew learn how not to cast blame on folks (or cats).