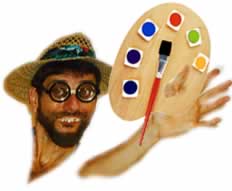 Come on in and check owt my art work!
When I ain't owt motivatin audiences or inventin new gadgets, yew kin offen find me in my art studio. I usually paint with acrylics on plywood or wood panels.
Yew kin click on any of the images below to see a bigger one with some philasofical comments abowt the painting.