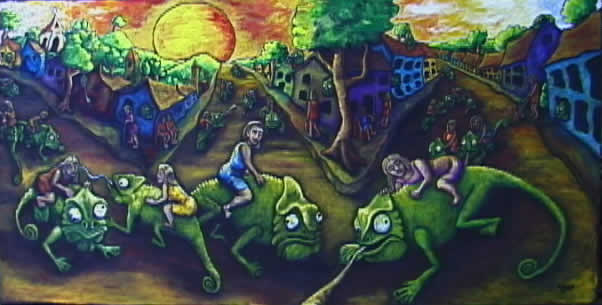 Peaceful Village
This here village come to me in a dream. All these fellers is sufferin from what I call the "chameleon complex." They's so concerned abowt how folks sees em, and what folks thinks of em, and abowt bein "successful... that they've kinda lost touch with who they rilly are. They ain't makin no waves, and their village is real peaceful. They need to do some serious work on their relationships. I hear tell that men is from Mars and women's from Venus. These here fellers look like some kinda Martians, but they's just plain ole chameleons. I wrote a short novel called "The Trouble with Chameleons." It inspired this here painting, and one day I'll publish it on this web site so yew all kin read it.
This painting's a real big un. I painted it on a full 4' by 8' sheet of plywood. I got it hangin on the wall in my bedroom... it takes up the whole wall. It was real tough gittin it into the trailer, but I did it! At first Raylene wuz a little ticked off abowt it, but she's gotten used to it now. She wants to know when I'm a gonna start carryin her arownd on my back. But that back-ridin's jest a product of my artistic license. If Salvadore Dolly kin paint meltin clocks and women with dresser drawers comin owtta their stomachs, I kin paint women ridin arownd on chameleons.
They's a whole lotta detail yew cain't see in this here little picher... so If yew wanna see more of the details, click on the link below. Yew kin see close up details as well as some behind-the-scenes views of the village.