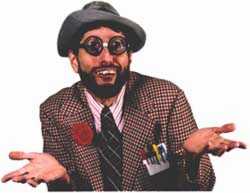 In Buford's own words:
Join the ranks of The Fortunate Few
I'm tawkin abowt the folks that loves and enjoys life. They carry sunshine arownd withem and success follers em wherever whichway they go. It aint somethin yew gotta be born into... its somethin yew kin develop. But in order to do that yew gotta start changing them ole habits yew've got so used to.
Teachin folks ain't easy
When folks comes to my sessions they's got all kind of baggage withem. They's got a lot on their minds, they're real busy and they don't always wanna hear another motivational message. Well, if I'm agonna teachem abowt change, they gotta see somethin diffrent, and that's what they git from ole Buford! They's used to sittin in their chair awatchin some feller tawk on and on abowt somethin. So I don't do that, I jump and dance and holler and sing make em git involved in the meetin. Thataway I kin git through to their hearts in a diffrent kinda way.
Gittin folks to change their habits ain't easy neither
So I tell em stories abowt ole Buford so's they kin see it from a diffrent angle... then I bring it back arownd attem like a mirror. I makem look at theirselves, but they's laffin and havin so much fun adoin it that they git cawt off gard. I showem how to change, and hopefully lettem see some good reasons why they need to change too.