Not just another pretty face
Buford is all of the above. He storms into your meeting like gangbusters with the humor and energy of a stand-up comedian, but his motivational message shines through all of his on-stage antics.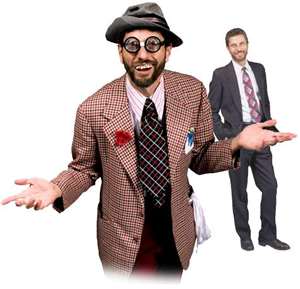 His programs range from light and fun keynotes about mules, hound dogs and fishing to full-blown training seminars on subjects like stress management customer service and building sales relationships. Buford P. Fuddwhacker is more than just a pretty face... he teaches, motivates and inspires audiences with pearls of wisdom.
Will the real Buford P. Fuddwhacker
please stand up?
Behind the checkered jacket, polyester pants and red suspenders is Roger Reece, who shows up to help Buford in his half-day, full-day and two-day motivational seminars. Together, they make an unbeatable team that's ready to energize, entertain, motivate and educate your people at your next event.