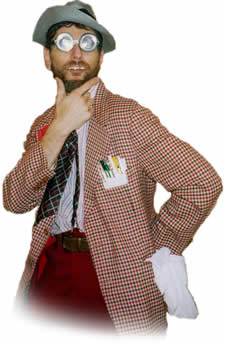 Don't Judge a Book By its Cover
Public speaker, Buford P. Fuddwhacker may look and talk like a country bumpkin but behind his simple demeanor lies a deep thinker and philosopher.
When you bring him into your conference or business meeting as a speaker, you don't just get an entertaining humorist... you get a self-published author and philosopher. Buford's profound insights are sprinkled throughout his public lectures, speeches, keynotes and seminars.
You won't find his books in bookstores, and you can't buy them through mail order or the Internet, but your group can hear about the wisdom that's found in their pages by hiring Buford as the public speaker for your next event.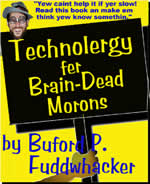 Buford on Technology
"Technolergy's yer frend! Don't let it intimydate yew and don't worry that some young kid's agonna git yer job jest becawse yew ain't a technolergy genius. My book kin transform yew into a computer geek in nothin flat. Lern all the hi-tek buzzwords. Lern to think and look like a tekno-geek. If yer a 98-pownd technolergy weakling and all them computer science majors are kickin bits and bytes in yer face, read my book and then go back and teach em a lesson!"