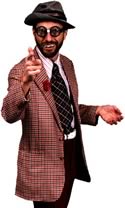 Closing is everything!
It's the most important single selling skill a sales person can develop, but it's surprising how many sales people think they can trade information for orders. Buford's response to the sales person who expects to get an order without closing it is, "Yew sure look awful withowt yer close!."
Let Buford crank up the enthusiasm
Buford is at his best when he's talking to sales people, and in this meeting he pulls out all the stops to make it the most fun and unusual sales meeting you'll ever have. It's not a training meeting, so don't expect Buford to teach unskilled sales people how to break sales records. But if you're looking for a wake-em-up sales meeting to get your group laughing while challenging them to close more orders, you should include Buford in your next meeting.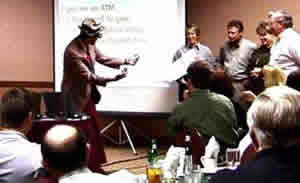 As in all his sales meetings, Buford will entertain and involve everyone in the audience with knee-slappin down-home humor, music and general mayhem.
He recounts his early days as sales person selling encyclopedias and vacuum cleaners, and relates his treasure chest of closing secrets and techniques such as the "I ain't goin nowhere till yew sign this order!" close. Buford explains how to handle every objection until you finally see the buy in their eyes (not the bye!)