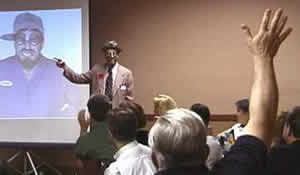 Buford tackles the great training challenge
One of the greatest challenges for trainers occurs when they encounter people who think they already know the subject matter. And with subjects such as interpersonal communications, time management, stress management, balanced living, customer service and selling skills people often think they've already arrived.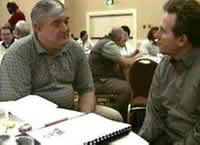 The fact is, learning subjects like these is a deepening process. You begin by learning a concept and establishing a framework for understanding. Then as you look, visualize, listen, feel, and experience, your framework is filled in with deeper and deeper understanding. The more your understanding deepens, the more your behavior changes as a result.
Buford P. Fuddwhacker has his own formula for tackling this great training challenge. It involves comedy and kazoos, singing and dancing, and enthusiastic delivery of "old" information in a new way. His training formula also includes group interaction and exercises, designed to help people discover and learn through their own exploration. Buford has distilled his formula down to a four-step process.
Fuddwhacker's four-step training formula:
Make the entire learning experience fun and entertaining
Present the training from a different and humorous point of view
Draw on the knowledge and experience of the "trainees"
Involve every participant in group interaction and self-examination