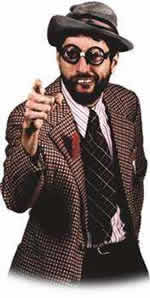 Good sales people deserve good sales meetings!
And putting a good monthly, quarterly or annual sales meeting together isn't always easy. You want to pack as much into the meeting as possible. You also want to minimize the length of the meeting because every hour your sales people are in the meeting, they aren't making sales and that means money. So you end up with a half-day, full-day, two-day or even three-day meeting that dumps a ton of facts on them, but sends them into information overload... and maybe even bores them to tears.
So if you're thinking about the agenda for your next sales meeting...
"Make this'un the best durn sales meetin ever!"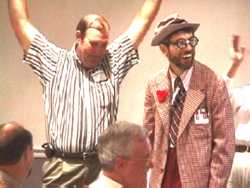 Make Buford P. Fuddwhacker your keynote speaker and watch him crank up the attitude and enthusiasm levels! Buford enters the room, tattered briefcase in hand, and and proceeds to turn your meeting into a knee-slappin, singin and dancin down-home sell-abration that will kick your sales meeting into high gear. He'll deliver down-home comedy, motivation, creativity and a truck-load of fun that will energize your whole sales meeting, making it "the best durn sales meetin ever!"