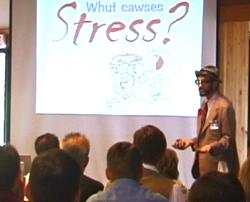 What causes stress?
Buford explores the causes of stress and provides real solutions in this fun and entertaining motivational keynote. Everyone gets involved singing, dancing and joining Buford in on-stage demonstrations and group exercises.
In his unique and funny down-home style, Buford shows that the real cause of stress is not people and situations, but our reaction to them. In fact, according to Buford we can learn to convert our stress reactions into the fuel we need to propel us to success in life.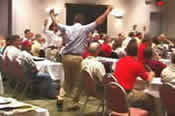 Stress fer Success is a high-energy, fun-filled session that will entertain, motivate and provide practical tools and techniques or dealing with stress at home and in the workplace. This dynamic keynote is the perfect way to open or close a conference, meeting or training program.
Too many balls in the air
Most of are juggling so many activities and responsibilities that it's easy to drop the ball in one area or another. If we learn to be so efficient that we manage to keep all the balls in the air, we may discover that our sense of satisfaction with life and our relationships suffer.