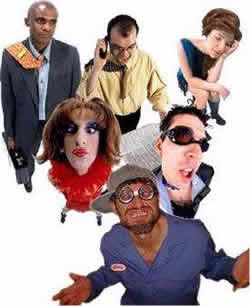 Some leaders are not managers
Do people come to you for advice? Do they value your opinions? Do they seem to trust your judgement? Do you tend to see solutions before others? Whether you're a manager or not, you may be providing leadership to people at work and in your personal life without even realizing it.
Some managers are not leaders
Leadership skills are often not a pre-requisite for management positions. Although the best managers are also great leaders, some are greatly lacking in this important area. Wherever you find employees with strong bonds of trust and loyalty to their manager, you generally find a manager with strong leadership skills.
Heed the call to leadership
Although some people may be "born leaders," the skills of leadership are generally learned through informal and formal processes. Buford P. Fuddwhacker's Don't Look Now, But Somebody's Follerin Yew keynote is a motivational program that contains some formal leadership training, and a whole lot of Buford's informal down-home "horse sense" that will inspire every member of the audience to the call of leadership.