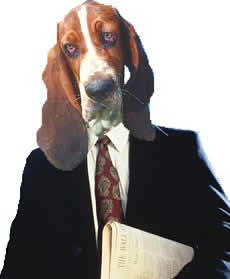 Is the hound dog in you getting you down?
According to Buford P. Fuddwhacker, there's a hound dog living inside nearly all of us. He may be asleep most of the time, but just wait until things stop going your way... that's when your old hound dog starts howling and whining.
Some people really have it bad... their hound dog has taken over. You may have met people like this. They are so negative, Buford calls them defective hound dogs. These are the people who live by Murphy's Law, "whatever can go wrong will go wrong."
If you are a defective hound dog, or if your hound dog just rears his ugly head enough of the time to rob you of your joy, you need to Put Yer Hound Dog Owtta His Mizzery!
When your attitude is right, you see possibilities in even the most seemingly negative circumstances. Let Buford help you put your hound dog out of his misery once and for all with this lively, fun, entertaining and motivating keynote. In this program, Buford will preview his new book on attitude in which he outlines the seven most common negative thoughts you need to watch out for. He calls them rabbits, because chasing a negative thought is like chasing rabbits... you get sidetracked from your goals and end up with nothing.