Buford's most popular keynote!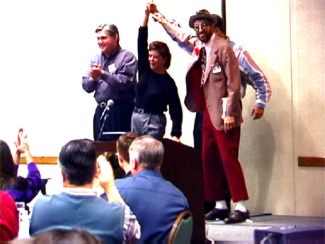 This great motivational keynote is the perfect way to begin or end your conference or meeting. It's Buford's most popular keynote because it provides a simple formula for balanced living that applies to everyone.
Fuddwhacker's Famous Four-step Formula Fer a Fortunate Future is fast-paced, fun, and packed with music, audience participation and great motivational exercises. Buford's four steps can vary depending on the theme of your conference or meeting. It generally includes positive attitude, productivity, personal achievement, and managing stress.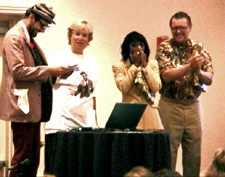 Buford draws on stories of his relatives and growing up on the farm as well as his ideas for new inventions to illustrate his points.
"Volunteers" are called up to the stage to get involved in Buford's antics, and to share their insights. Every volunteer gets a prize and some will compete for the coveted Fuddwhacker T-Shirts.