Buford's most popular seminar & workshop!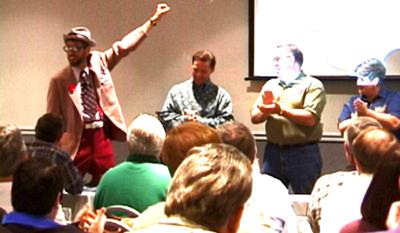 Become one of the Fortunate Few! In this half-day or full-day seminar and workshop, Buford delivers a fun and entertaining program full of rich motivational content.
Meet Buford's brother Leroy and his sister-in-law Rubydee. Meet Raylene Fuddwhacker, Buford's beautiful (?) wife. See Buford's new invention for saving time, Web-TP.

Buford unveils his formula for success in life and his homespun philosphy by relating personal stories from his vast wealth of experience. The audience becomes his stage as he draws each person into his world.
In Fuddwhacker's Five-step Formula Fer a Fortunate Future Buford brings members of the audience on stage for a fashion show and uses it to illustrate the significance of positive attitude. He gets everyone in the room involved in attitude ajustment exercise, dancing, playing kazoos and singing Karaoke. He challenges everyone with entertaining written and group exercises involving goal setting, visualization, and self-assessment. He transforms a member of the audience into an Elvis impersonator in his teaching on time management. He leads the group in a relaxation and stress management exercise. And throughout the program, Buford delivers solid motivational teaching on personal achievement, leadership and balanced living in his unique, wild and crazy, down-home style.
The steps in Buford's five-step formula vary depending on the themes, topics and requirements of your organization. If you build this workshop and seminar into a conference, Buford's program can be broken into 2, 3 or 4 sessions on different days, supporting the content of your conference each day.