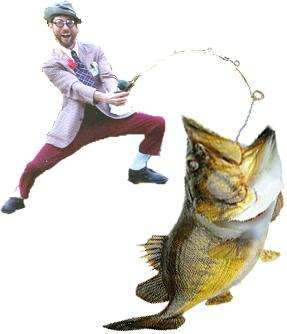 Forget about the big one that got away!
"Stop yer belly-aykin abowt that big ole sale yew lost. Go git yer pole and keep on fishin! They's plenty of bizness owt there and yew ain't agonna ketch nothin if yew don't git yer line in the water!"
In this fun and energetic sales keynote, Buford P. Fuddwhacker exhorts your sales force to go out and find new business every day.
Big sales are great, but you can't spend all your time working on one or two big sales that may eventually get away from you, leaving you with a big goose egg. Don't sit around thinking about that big trophy fish you expect to hang on your wall some day... get out and start prospecting for new business right now!
Sellin's a lot like fishin
In Goin Fishin fer New Bizness, Buford talks about his two favorite activities... fishin and sellin. He talks about the similarities between the two activities and tells why sales people need to learn the habits of expert fishermen.